Video marketing in SaaS has been receiving a lot of buzz lately. And maybe you want to learn more about it.
Perhaps you're already creating videos but wondering if there are ways to on how you can get real ROI from the.
After all, online viewers are increasingly drawn to videos over other forms of content. In fact, according to recent studies, more than half of customers (72%) prefer watching videos over reading text when making purchase decisions.
So, if you're not already using video as part of your SaaS marketing strategy, now is the time to start!
This guide will provide you with everything you need to begin. We'll walk you through the basics of creating effective video content, and we'll offer you some tips for optimizing your campaigns for maximum impact.
Ready to get started? Let's go!
What is Video Marketing?
What is a Video
Marketing strategy?
Step by step guide strategy for video content
Types of video you can create
Stages of video production
SEO Video Marketing
Distribute it on your own channel
What is video marketing?
Video marketing is the use of video to effectively communicate with customers and prospects. Video captures people's attention and makes them curious.
What's more, video marketing is a strategic tool that you can use to enhance your company's online presence, especially when it comes to its social media channels.
It not only provides more opportunities for reaching potential customers, but it also gives prospects a 360-degree view of the people they are working with (in the case of a B2B) or how your products and services are the solutions to their pain points.
Videos accelerate the decision-making process for customers so they move down the sales funnel faster.
What is a video marketing strategy?
An effective video marketing strategy includes planning, creation, and execution of your material. The key to the effectiveness of this kind of campaign is how you plan it out from the beginning — all the way through production, with captivating content for maximum impact on your target audience.
Every aspect should contribute towards an objective, so viewers can easily get engaged with what they see. And this will lead them back into purchasing your product or service.
Step-by-step strategy for video content
Producing the video is not the start nor the end goal of video marketing. If you want to see results from your video campaigns, you have to put a strategy behind it. Here's how you can come up with one for your software.
1. Define your goal
The first step to video marketing is setting a clear goal for your videos.
A great way of getting started with this process would be by thinking about the purpose of the video. Do you want to use it to get free trials? To convert more paying users? To get webinar attendees?
Knowing your end goal will guide you on how to shape message you want to convey to people.
Here are examples of different videos made for different purposes for your SaaS.
Explainers for showing what your SaaS can do
Explainer videos are an engaging and informative way of presenting complex information about your SaaS in the most simple terms possible. Explainer videos are great marketing tools because people want easy-to-understand concepts.
Brand videos for leaving an impact
Brand videos are a great way to show off your company's personality. It also makes customers feel good about using your product or service, giving them some kind of assurance that they did the right purchase.
How-to videos to educate users 
How-to videos show customers how to use your software. These types of content are helpful for new users who want a quick walkthrough of their purchase. This will cut down your churn, your customer support tickets, and the time it takes for users to get to the AHA moments when using your tool.
Review videos to get feedback
Review videos can be a great way to capture customer feedback about your software and turn those into tangible changes. With the help of online review videos, you can get an unbiased opinion on what other people think about your brand.
Testimonial videos to build trust
Testimonial videos are one of the best ways to build consumer trust and empathy. They allow your audience a deeper look into how your offer can be of help to others. They're also an excellent marketing strategy because people will get a feel of others' experience with your brand.
Demo videos to win B2B clients
Demo videos are a great way to show your product in action, so people know exactly what they're getting before purchasing. They're also really helpful for showcasing products at work, and, with that, you can get more people on board.
Plus, read up on current video marketing trends, usage, and statistics before you map out your approach. This way, you'll be able to put together something fresh and different so people will react to your videos.
2. Understand your audience
The next thing to do when creating a SaaS video marketing tool is to understand your audience and their needs. The more specific you are with the pain points their experiencing and the way on how your tool can solve it, the better the chance that they will find value in it.
3. Build a project roadmap
When developing a video marketing tool, you must have an outline or roadmap in place. This will help you stay on track and avoid any potential pitfalls along the journey.
Take this seriously. Back when we filmed a video for McDonald's, we had a detailed roadmap for it — it almost looks like a manuscript!
It has all the things we need to do before filming so we're ready for the big day.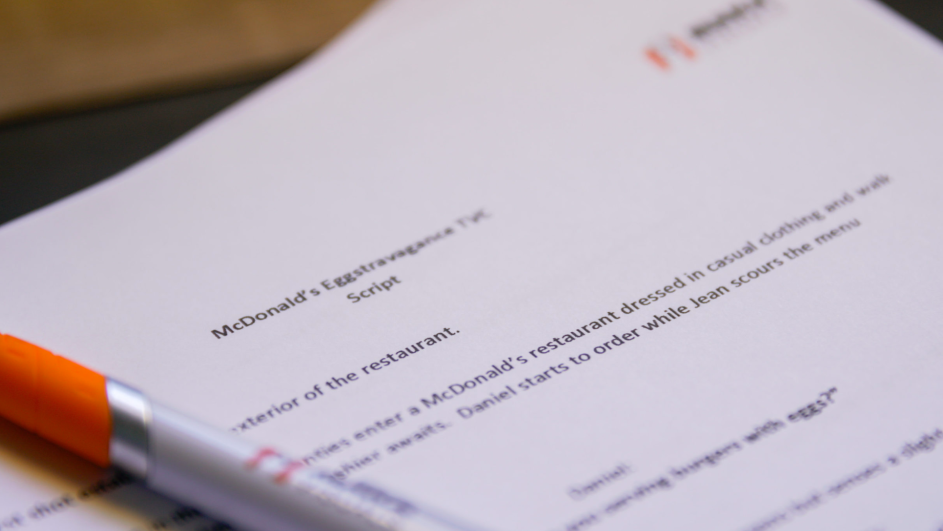 4. Establish a budget and timeline
Consider the time and budget you have available to spend on your video. Map out the roadmap you and your team have created by calendarizing all of these processes, from filming through editing. It'll help keep things organized and avoid unnecessary expenses and wasted time.
Video marketing content production can be a tough process with many stages, so let's break it down:
Pre-production
Video pre-production is the process of planning, organizing, and executing all aspects before shooting a video.
It includes storyboarding animations to present your ideas in an artistic way, as well as establishing time schedules for different tasks.
Production
The video production stage (shooting stage) begins when cameras start rolling on set.
This is the part where the direction, the acting, and camera work all come together to create a successful marketing tool.
Video post-production refers to the manipulation, enhancement, and extension of the videos, which happens after filming.
It starts with editing then moves on to adding music or sound effects for volume adjustments as well special visual techniques.
Video marketing production can be a very intricate process. There are many decisions to make and elements that need attention such as planning, scripting, casting, not to mention all the paperwork required.
But, who says you'll have to do it all alone? Video production agencies are everywhere now. The right agency will have it all covered — from storyboards, scripts, voice-overs, locations, production design, and professional actors. That spells out a major convenience for you and your team.
5. Keep focused on your goal
People love watching videos, but they don't want to sit through one that doesn't serve a purpose. So, make sure that your SaaS video marketing tools are consistent with your objectives.
Achieving maximum exposure for a product or service can be tricky, which is why it's important to understand exactly what kind of publicity you're going after and if they are aligned with your goals.
6. Distribute, distribute, distribute
Now once you have your video, you just don't post it once and let it gather dust. You have to distribute and re-use it across your customer journey.
Reusing your SaaS video content across your customer journey is crucial when building a relationship with potential or existing customers. They help you answer the common questions prospects have, moving them further into the funnel.
Give your video marketing a kick by distributing it on different platforms. You can use the tool of your own channel, blogs, and social media accounts as well.
Your website
You can embed your evergreen videos on your website to generate traffic, boost SEO rankings, and increase conversion rates. Think of adding your brand or explainer video on your homepage. This has worked well for other SaaS companies.
Optimizing your SEO in videos will get more people to visit your website through organic search engine results. About 55% of Google keyword searches refer to videos.
SEO is a huge part of video marketing, so it's important to know its ins-and outs.
The keywords you choose for your videos can have an impact on how successful they are in search engine results pages (SERPs). That's the very reason why the keywords that your business uses should be well-optimized.
Social media
Instead of spending hundreds or thousands on video marketing, use your social media platforms to get the word out. You can do this by sharing videos that are relevant and informative with people who are interested.
YouTube channel
Approximately 6 billion hours of video are viewed each month on YouTube, making it one of the most popular sites on the Internet. Use this popularity to your advantage by distributing videos through YouTube and giving them a major boost in visibility.
When you host your videos there, you just don't get an organized place to store your videos, you also get extra search traffic from there.
Email
Email marketers have access to a huge audience. Include video in your emails to make them stand out and capture attention.
Landing pages
Your video marketing is only as good as the number and quality of viewers who can find it. To make sure this happens, create a SaaS landing page that features some appealing video content with CTAs that'll gather leads.
Stories
You can give your video marketing a lift by posting it on Facebook stories. You can use this tool to show your visitors what's happening in real time, which may encourage them to come back for more.
Use it on your ads
Advertise your business with video ads on Facebook, TikTok, Instagram, and other platforms. One of the best ways to get customers is by advertising on the top social media platforms. You can also try sponsored video ads — they're scroll stoppers, especially when they're different.
Develop a Video Marketing Strategy Today
Video is a powerful tool that can help you reach more customers and drive conversions. Not to mention, it's been shown to improve brand awareness, amplify lead generation, and even reduce user churn.
If you're not confident about making your SaaS video marketing strategy on your own, we hope this article has changed this feeling.
But if you need help…
At eggcrate, we offer video production services as well as video marketing consultation for your SaaS. We want to make sure you get the most out of your videos, so you can see real results in your business.
Ready to get started? Contact us today and let us show you what video can do for your business. Let's hatch a plan!