Marketing has never been more narrative-driven than it is now. Many brands are using storytelling in their marketing, and the best businesses will show you why this method of connecting with customers is so effective.
A brand's story plays an important role in capturing prospects. Marketing psychology reveals that stories are hardwired into our brains — so if you're pitching an idea or trying to get people's attention on social media (or even just in a conversation), focus on brand storytelling. It's effective at grabbing everyone's attention.
And what better way is there to tell your brand mission than making brand videos? Five out of ten consumers prefer brand ads with video. Having said that, here are more stats that will inspire you to dig into branded video campaigns:
By now, I'm guessing your fingers are ready to type "Brand Videos" into your search bar. We'll spare you the hassle…read on!
So, what exactly is a brand video?
Let's say, this video content is one of the best ways to attract customers to your SaaS. A compelling plot and well-written dialogue can quickly establish you as an authority in your niche or industry.
These impactful, but short videos are a great way to show off your company's personality and brand values while helping viewers understand who you are.
They're typically made with short, punchy content that highlights what you do, what you offer, or what you've accomplished as a business. But some brand videos simply induce a feeling to make a connection with the viewer. 
For example, instead of just telling people what your company does, a great way to connect with them and show how it affects their lives is through these brand videos. These short pieces can help prospects relate emotions associated with the product or service being offered so they see more than just an idea — they crave involvement in order for this desire-to be filled by you.
Your brand videos will take your SaaS to the next level. Through these video clips, you can become an established brand and not just another tool that'll disappear anytime into thin air.
5 brand videos you can draw inspiration from
As more and more brands (even small businesses) turn to videos, the competition for engaging, creative videos grows fiercer. So how can you make sure your brand video stands out from the rest? By looking to others for inspiration and putting your own, unique spin on it.
Below, we'll take a look at a few brands that have nailed this video marketing strategy. Whether you're looking for creative ideas or just want to see what other brands are doing well, these videos are worth checking out. So without further ado, let's get started.
1. The brand story from MAKA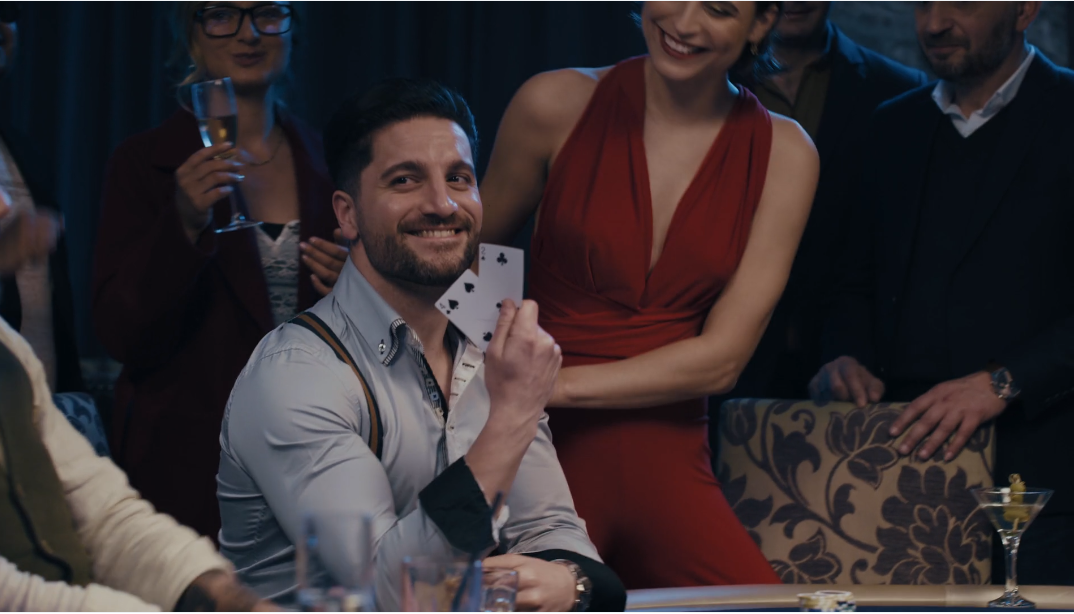 MobilBahis | That Winning Feeling Brand Ad
FYI, MAKA is the sister brand of eggcrate. The MAKA team has been in operation for 6 years, working for big household brands.
What makes this video stand out?
'That Winning Feeling' is a brand story by MobilBahis that takes a powerful spin on the world of casino.
This video depicts actors radiating energy and passion as they play the game. With 82 seconds, the brand video has changed the story from casinos being a game of chance into a game of instinct and initiative– sending the message to its viewers that these betting games aren't just made out of pure luck. They are also composed of actions, intentions, and staying in control of the game.
All thanks to the script, storyline, and actors portraying the roles– the brand has given birth to a genuine insight, perceiving a casino as a challenge of strategy.
2. Wonderbly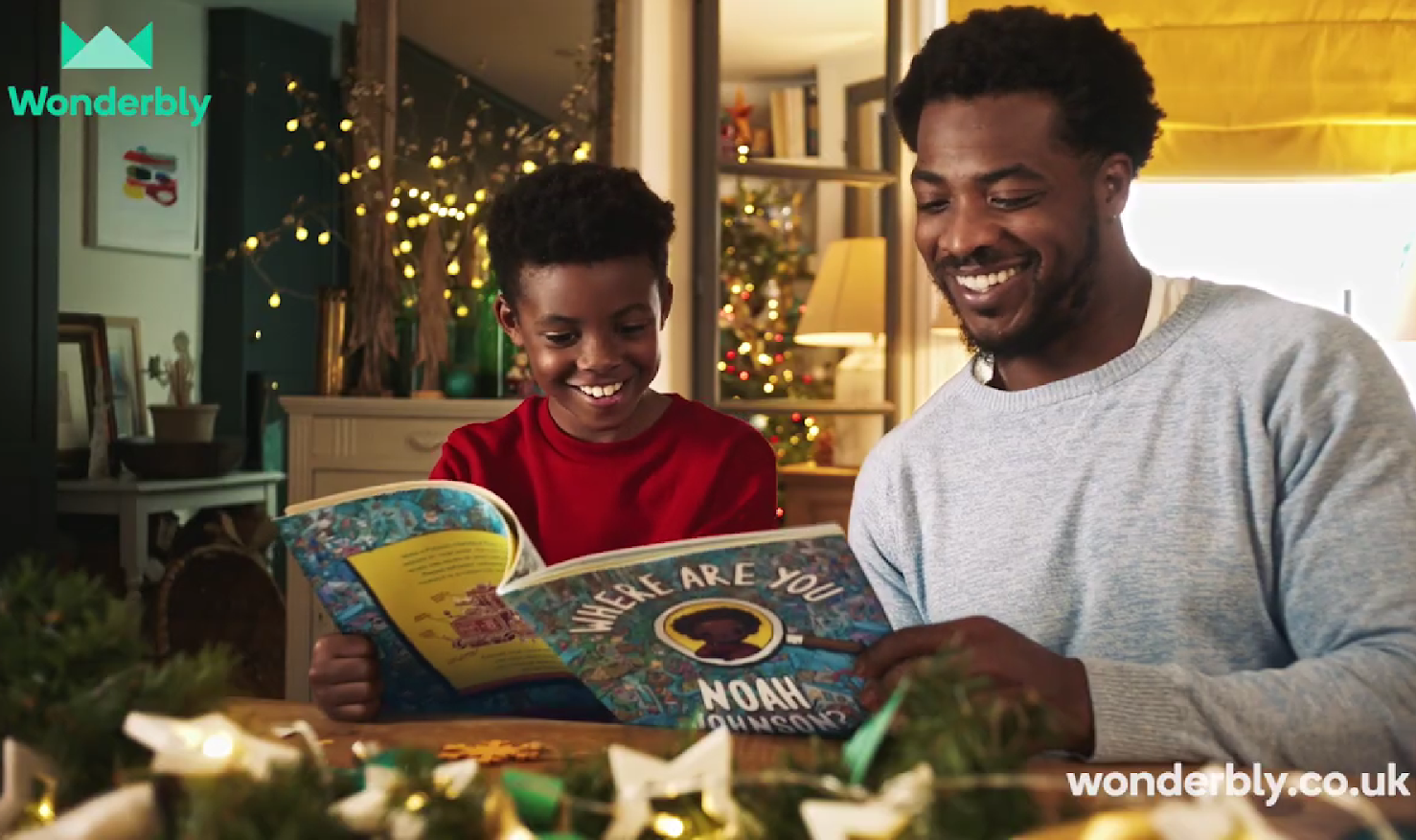 The Wonderbly Moment | 2021 TV Christmas ad
What makes this video stand out?
Wonderbly has made its brand identity crystal clear in its ad for Christmas 2021. The raw emotions on the actors' and child actors' faces when reading a Wonderbly book would stir parents' (or an aunt's or a teacher's) emotions and make them likely to purchase a book for their little ones.
The brand also emphasizes its Unique Selling Point, which is giving children the Wonderbly moment of finding themselves in their own book and starring in their own bedtime story. A personalized content that you don't see in generic fairytales.
All these significant details in just a matter of 30 seconds.
3. Starbucks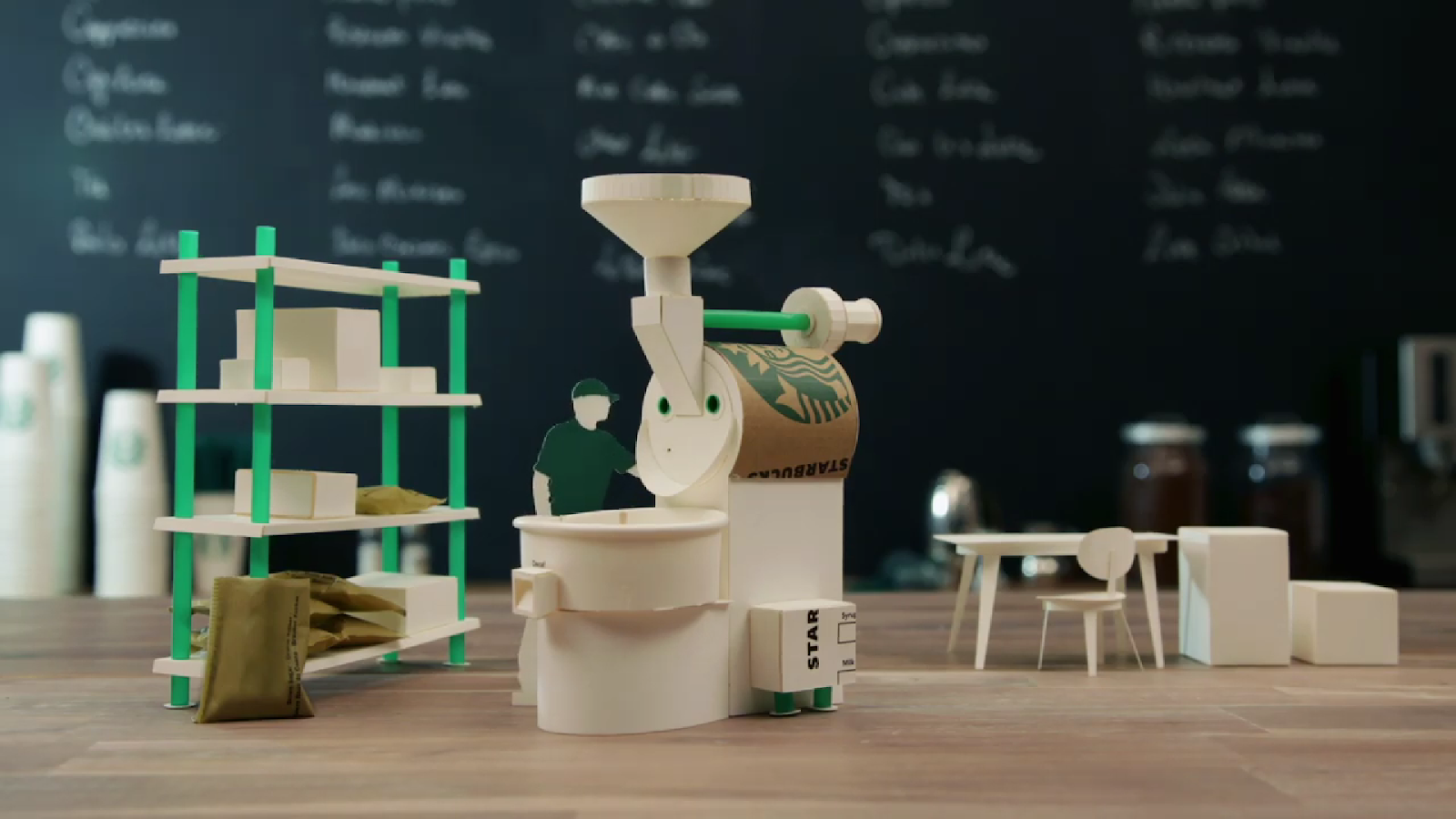 What makes this video stand out?
The catchy intro is sure to capture the audience's attention within the first three seconds. The screen flashes the words "The End" along with a Starbucks cup, which will perplex viewers, making them think that they've started at the wrong minute.
Starbucks' brand video purposely started with The End, and eventually backtracks to the coffee's origin…the coffee farm. It rewinds the intricate process of processing the fresh coffee beans that eventually end up in the barista's hand, which will then be handed to you.
As Starbucks emphasizes here, their coffee is personal, not only because they hand it over to buyers with their names scribbled on the Venti, but also because the brand is personally in touch with every farmer and every barista who makes this "rich, smooth, roasty, balanced" cup of goodness possible.
And that kind of storytelling — the kind where a big brand has a heart for their workers and for you, will make consumers go (more) gaga over the coffee company and their products.
4. Squarespace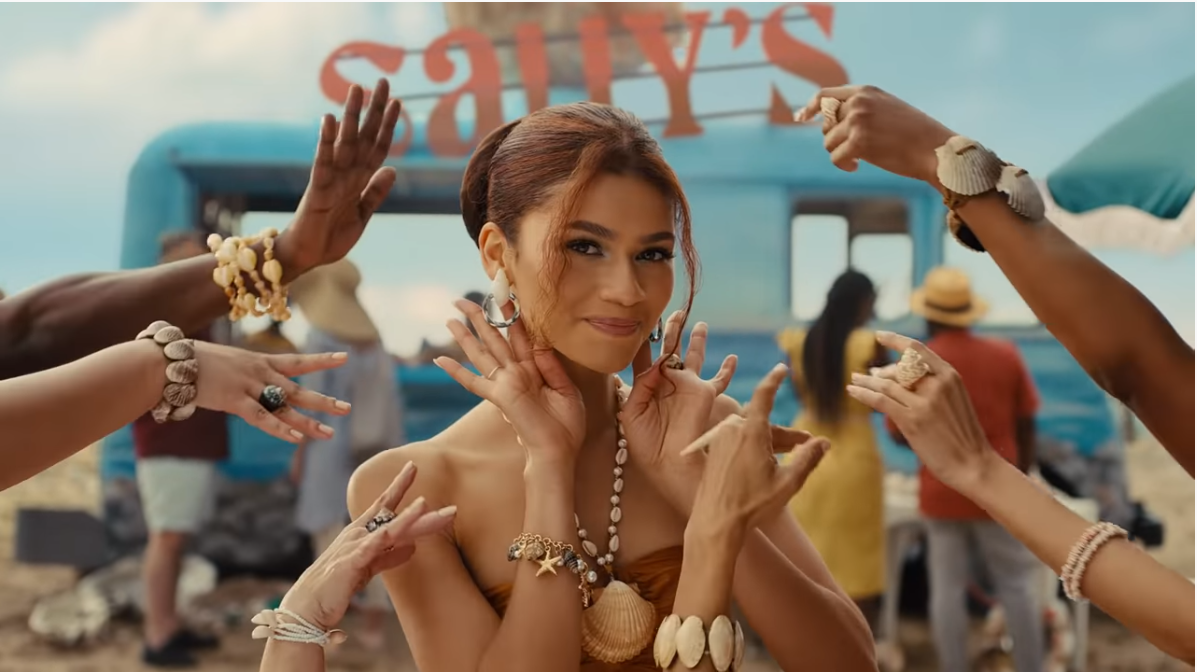 Sally's Seashells | Big Game Commercial 2022 | Squarespace – YouTube
What makes this video stand out?
This Squarespace brand video opens with Sally selling seashells by the seashore, which fails, so she then proceeds to sell shell stuff on Squarespace.
There is nothing dull about the advertisement — it's full of rhymes, wordplay, and tongue twisters, not to mention Zendaya's performance, which keeps viewers hooked until the very end.
The goal of Squarespace is to bring together millions of dreamers, makers, and doers who are looking for the tools to materialize their creative vision. They've succeeded in enticing people to sell on Squarespace as they show their wacky side, proving that selling on Squarespace is a completely positive experience.
5. Hubspot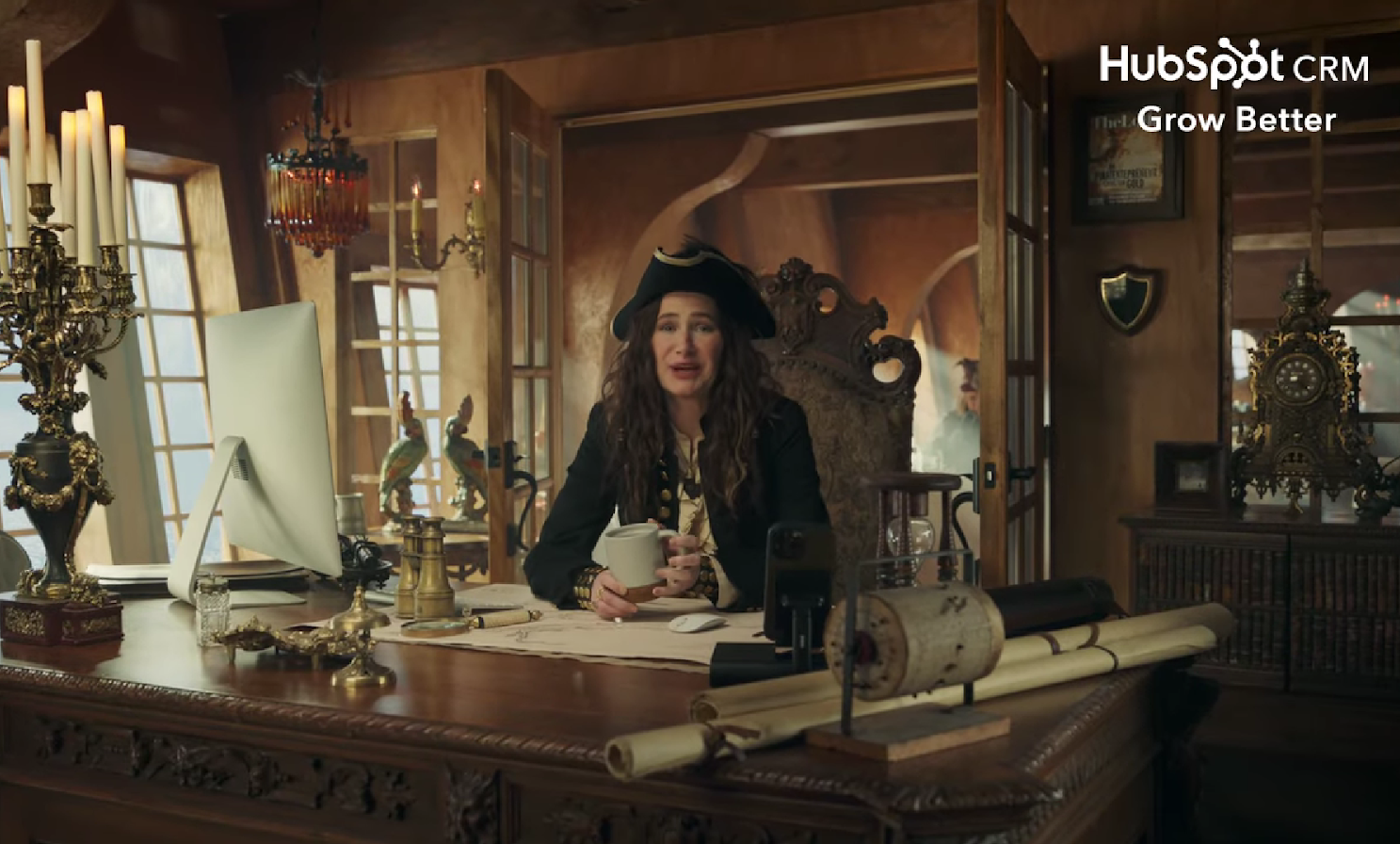 A Smooth CRM for Rough Seas
What makes this video stand out?
Who said that humor and credibility won't jive when creating a brand video?
Hubspot proved otherwise by creating funny content about pirates and gold, which, at the same time underscores their company's strengths. Ironically, they starred as sea "thieves," but because they use Hubspot for doing (monkey) business, customers trust them entirely.
It goes to show that you can be creative and even use a fictional setting for your brand video, without disrupting your company's integrity. How? In Hubspot's brand video, the script is the key!
I run a SaaS. Why would I want a brand video?
If you run a SaaS company, you might want to consider creating a brand video for your products or services. Here are some more reasons in a nutshell.
A brand video can…
introduce your company and product to a wider audience, in a way that's both engaging and informative.
help build trust with potential customers by showing them the faces behind your company, and explaining what you do and how you do it.
be used to drive traffic to your website or landing pages by providing a link that viewers can follow.
be an effective marketing tool by promoting special offers or discounts, or by showcasing customer testimonials.
5 lessons to apply to your next brand video
1.Tell a story
The best way to connect with your audience is to zero in on giving them emotional value. A good story will make people want to know more about your product or service. When you're creating a brand video, think about what kind of story you can tell that will connect with your viewers on an emotional level.
Emotional appeal is key when it comes to branding. After all, people buy based on how they feel and use logic to justify their purchase. So evoking positive emotions like happiness, hope, and love in your brand video will help engage viewers and encourage them to take action.
2. Focus on the script
A brand video is all about conveying your message in a concise, interesting way that engages your target audience. And the script does most of that, so take the time to write and revise it well.
Also, keep it short, sweet, and to the point.
People have short attention spans so it's crucial to make your first 5 seconds engaging. This will make viewers stick around for the rest of the video. There's not hard rule on the length, but the sweet spot should be around the 1 minute mark.
And, they pay special attention to scripts that poke fun at their everyday life.
3. Be clear on your video's goal
You must be clear on your video's goal from the start. Your brand video should have a specific purpose, whether it's to increase brand awareness, generate leads, or be used as video ads to promote a product or service. Keep your goal in mind when creating the video to ensure that your final product hits that target.
4. Add your brand video elements
People are visual creatures, so make sure your brand video is visually appealing, all while highlighting your brand elements like logo, brand colors, music, and fonts that are consistent with your brand.
Make sure to add high-quality images. Why would anyone trust a brand whose logo is blurry and low-res? Your brand elements have to look good so that they can properly reflect the values and personality of your business.
5. Don't ignore your post-video production
Don't ever forget about post-video content production!
It's where all the editing and polishing of your content comes in; everything from the sound effects to the music, up to the mood, etcetera. This will be the final version of your branding waiting to be aired out far and wide.
Also, don't forget to distribute your videos — they're meant to be seen by your audience.
Measuring the success of your video marketing strategy gives you data you can use as the basis for your decisions in the future. So schedule the checking of its metrics from time to time.
The bottom line on brand videos
Brand videos are a great way to create an emotional connection with your new customers and promote your product. They can be used to show your brand personality, company culture, and core values.
A smart and successful brand knows that the addition of real live actors in these visuals adds a human touch, helping your target audience feel emotions.
Your SaaS company is no different. In fact, it has a lot more specific benefits having a fun brand video created. Well-crafted stories will help capture leads that will start their journey to be converted into customers.
Now that you know what goes into making a great brand video, it's time to get started on your next video for your SaaS!
And if you need help, we're here.
At eggcrate, we specialize in creating your brand's video that will tell your story in an engaging and visually appealing way. It's our job to help you explain and sell your product using a storyline that leaves a lasting impression with real live actors (not cartoons).
We'd love to help you create a video that will introduce your business to the world and help you sell your product using premium videos.
Contact us today to get crackin'!