Can you spare a few minutes?
For most people, a few precious moments is all they're willing to give.
Everyone's attention spans are also getting shorter, going down from 12 seconds to just 8. That's why short videos are hot right now!
This explains how TikTok sucks up the most of our time among the apps. Reports say average time spent on TikTok was 27.3 hours per month.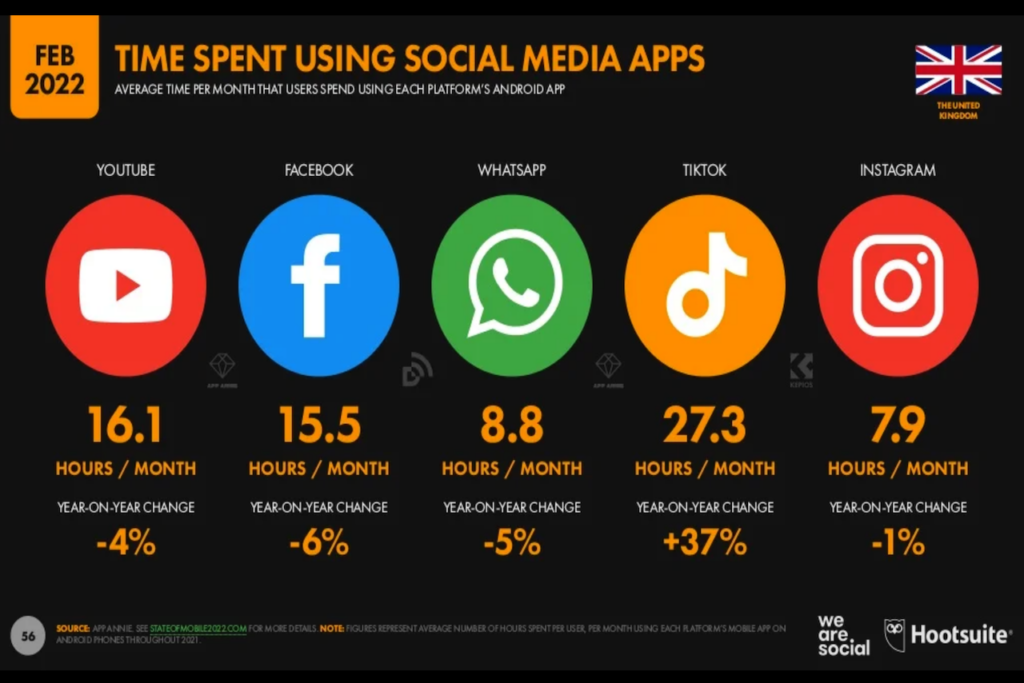 Short videos are too easy to consume and we just can't help but browse one after another after another!
YouTube is joining this trend. They're monetizing YouTube Shorts with 45% revenue split.
Luckily for SaaS brands, they can now take advantage of video shorts.
Around 7 out of 10 smartphone users have an app that allows them to watch short videos.Video content has become an essential part of building trust in the digital era where we're always on our devices looking for entertainment or new information.
Video clips are generally seen as entertainment only by most people. But did you know how much of an impact short videos have on your SaaS marketing efforts?
Done right, these little clips can be extremely effective and could revolutionize the way you pitch your SaaS.
Creating engaging short videos can be tricky. So, how should you do it? Read on!
What are short videos?
Short videos are clips that usually last from a few seconds up to a minute (or two). Of course, the optimal video length varies for each platform.
It's also often the short videos that generate the most engagement on social media. They're quick and easy to watch, and they can get your audience looking forward to what's coming next.
Here is our list of 4 awesome short-video sharing sites that'll help you build up hype in no time:
YouTube Shorts
YouTube Shorts is a new theater for viral shorts. Over 5 trillion views have been recorded on the site since 2020.
The 60-second video platform is a powerful marketing tool for SaaS businesses to create short and sweet clips that target your audience's specific needs with videos that genuinely resonate.
Pros
YouTube is the Google for videos
Build subscribers quickly
Publish multiple videos as often as you like


Cons
You only have a minute
Converting viewers into subscribers is challenging 
Not easy to edit videos
YouTube Shorts is a perfect spot to learn something new, whether it's how to do the dougie or sing Happy Birthday in French or get an app's basics.
That makes it best suited to a learning-oriented audience who doesn't have time to sit through lengthy teaching sessions. Think about this: If CEOs were to watch long videos all day, they wouldn't have a chance to get anything done, would they?


TikTok
The TikTok app lets you create and share videos of up to 10 minutes.
Some people use it for educational purposes and other TikTokers create short-form content like dance routines or skits lasting 15 seconds to 3 minutes.
As of 2022, TikTok had over one billion active users across 154 countries.
Pros
Easily repurposed to IG or Facebook 
Easy to use and navigate
Algorithm can make you viral
Hottest platform right now


Cons
Algorithm can be hard to predict
App is addictive 
Can be easily misused by frauds
B2C and eCommerce marketers are flocking to TikTok like never before, and for good reason. TikTok has been ranked the number one platform by HubSpot Blog Research in 2022 for marketing investments.
Additionally, it is the most popular app when it comes to video consumption among the young population, where almost 70% are females.
This means you can get your message across in an engaging way that resonates with this generation of consumers.
Instagram Reels
Make your next SaaS video idea stand out with Instagram Reels. Up to 90 seconds of engaging, creative content can be created with any photo or footage you have.
Compared to standard Instagram videos, IG Reels generate 67% more viewer engagement, making it a better channel for SaaS marketers who crave for more clicks.
Pros
Videos are prioritized over images on IG
Celebrities and influencers have more engagement
Allows advertising


 Cons
Fewer editing options compared to TikTok
Limited amount insights
IG reels are for creative, entrepreneurial people who want to stand out in the social media world.It's not just about posting pictures on Instagram anymore — it's all about creating an engaging story with your posts and building relationships through discussion threads.
LinkedIn
On a platform where there's more business content, the video stands out as an excellent way to communicate who you are and what your SaaS company does. On LinkedIn specifically, videos generate triple the engagement compared to text-only posts.
Prons
Video content grows rapidly every year
Opportunities for networking, especially B2B
Optimized for search engines


Cons
Getting flooded with spam connection requests
Not everyone is active on LinkedIn
Disclosing professional information can be risky
LinkedIn is a powerful tool for B2B marketers.
The platform has over 800 million active users. And the vast majority of these individuals are looking to buy or do business with someone they know well. This makes it an ideal vehicle by which you can reach your target market.
The latest trend in marketing is using videos on social media platforms, and LinkedIn has become a favorite place for businesses to post their message.
More than 50% of video marketers have used LinkedIn video content recently — so if you want your SaaS company's name out there it might be time to start thinking about getting into that game.
So, how about you? If you were given the question:
"You can only pick one video channel for a creator today. Which one would you bet on YouTube, TikTok or Instagram?"
Here are some real perspectives from real people just to give you more insights in picking the right platform for your SaaS brand: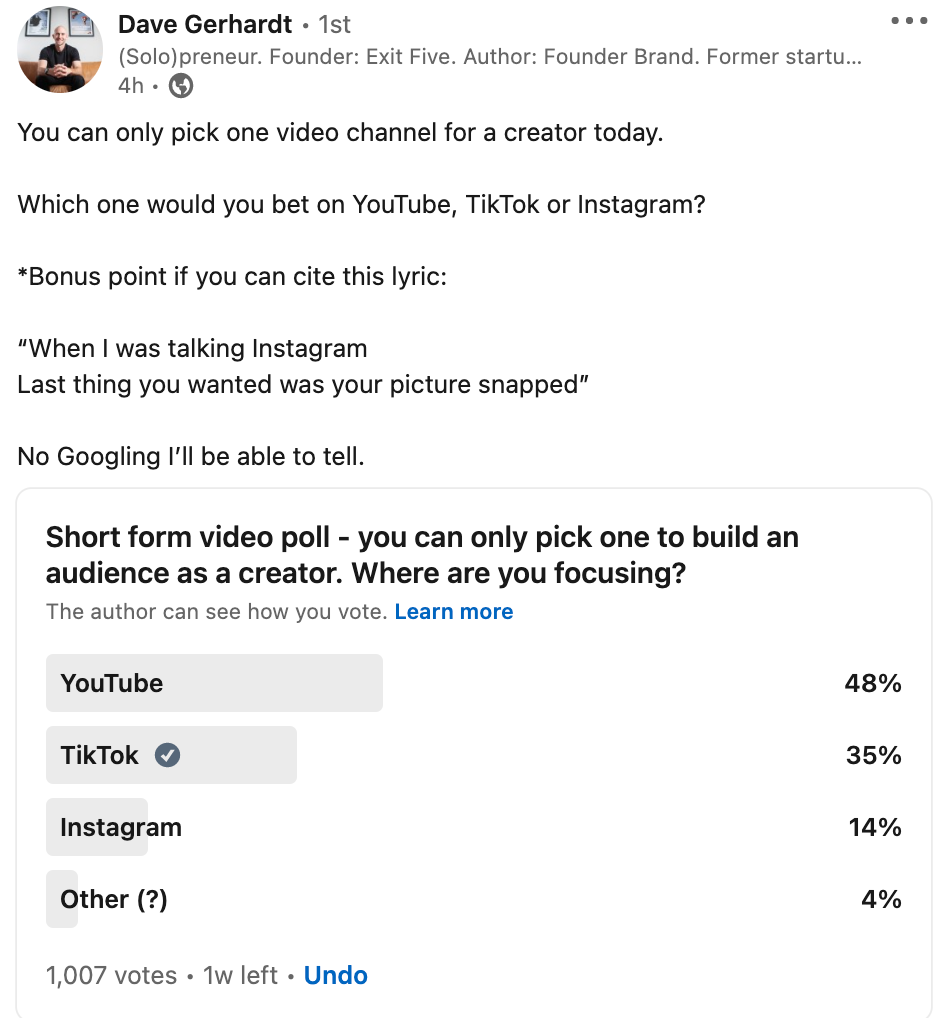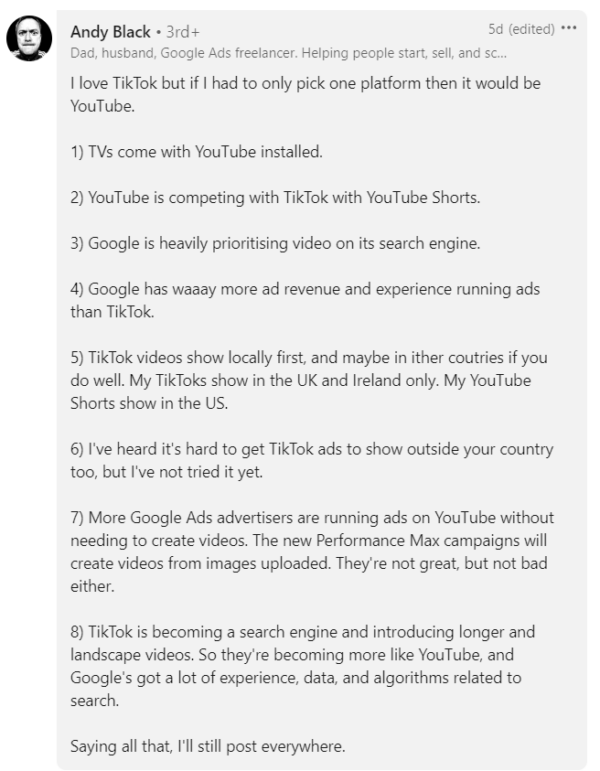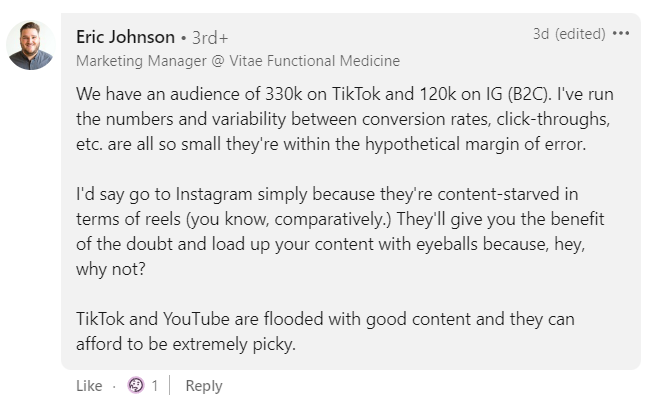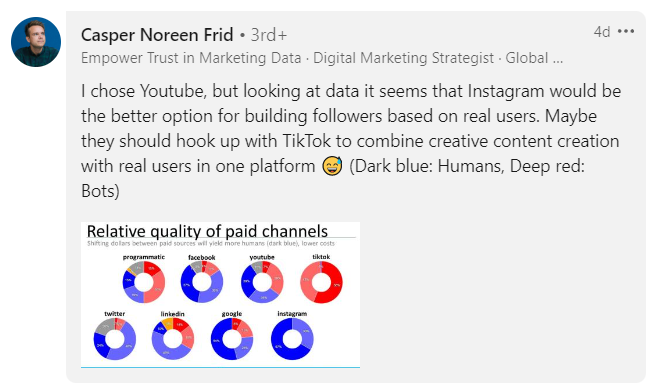 How short videos could revolutionize your SaaS marketing
SaaS marketing is different.
According to the Founder of SaaSMarketer,
"In SaaS marketing, you aren't selling a product, you are selling software. But that's not all, remember SaaS stands for: software as a service. You're not only selling software, you're selling a service."
That is why we must adapt a different strategy for selling SaaS, in this case, with short videos. If you do it with a solid plan, short videos can do wonders for presenting what's being sold in a captivating way.
And it can help make sure people understand all its advantages and how the SaaS's features can ease their lives.
Why does this work better than other methods?
It all has to do with how people consume media today: short videos are watched on smartphones on daily commutes, while waiting for your wife to finish shopping, or in cafes whilst sipping a latte.
Given that videos are only one minute long or sometimes even shorter, people might watch them more than once, too.
And that makes it a double win for you.
8 ways to use short videos to market your SaaS
1.Feature showcase (HotJar)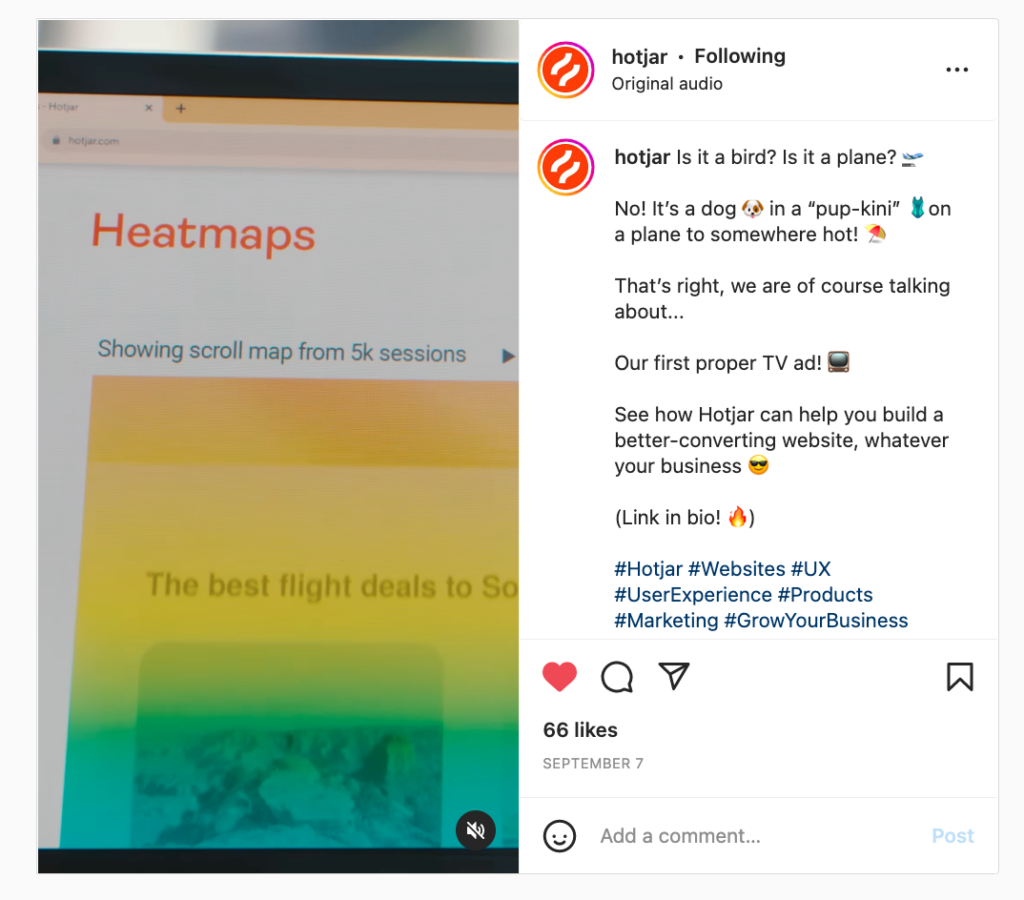 Marketing with short videos is a brilliantly creative and engaging way to market your SaaS capabilities.
There are many different ways to use short videos as a marketing tool for your SaaS.
For example, you could create videos that highlight the most useful or fun aspects of your app's features and post them on social media with tags like #funny for people who enjoy funny content.
And #useful as well, if they're looking forward to something educational — but not boring.
Hotjar made a video worthy of #useful, which showcased their most important feature: helping marketers see how people really used their websites.
Whoever said that a tool for behavior and analytics should be so dull?
In this short, Hotjar featured people who might use Hotjar's app, their product, and of course, some pups! You might not expect it from an app focused on web analytics, but that's exactly the point.
We made this by the way!
2. Do quick tutorials (Zapier)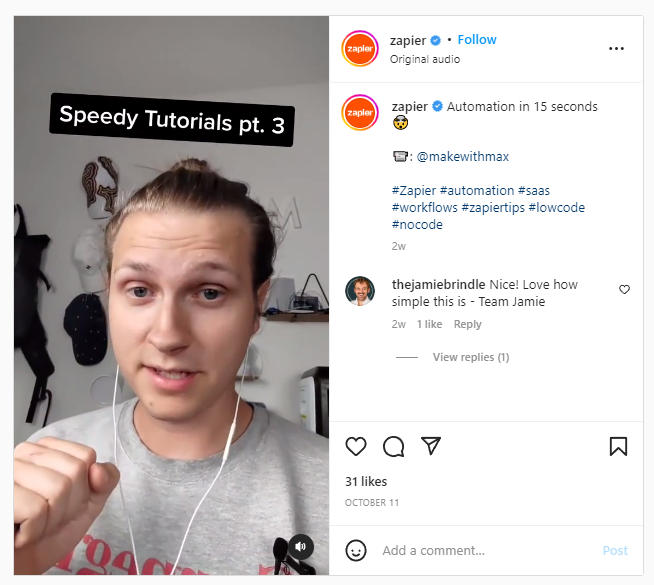 Tutorial videos offer a more in-depth look at certain features that appeal to customers. These tutorials provide targeted answers for FAQs, which make them perfect if you want an informative but quick fix.
Doing speedy tutorials like Zapier makes exploring an app's function look easy-peasy. Instead of linking your clients to lengthy articles which could discourage them and make them feel intimidated by your SaaS app, why not give them some sort of "app hacks" instead?
3.Make educational videos (UpLead)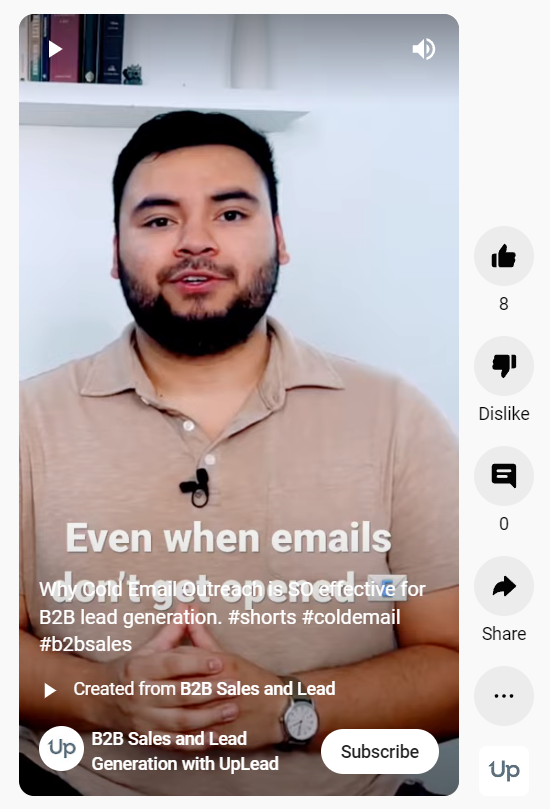 In just a few seconds, UpLead's educational video provided an informative insight regarding lead generation. This clip captivates and encourages viewers to continue along the sales funnel with a CTA (a link is provided for the full-length version of the short).
When you only have a short time to speak with your audience, you need to make sure they are actively listening. Make them pay attention by getting them to laugh or cry — whichever is relevant and appropriate — and will keep their eyes and ears open until your message is received.
4.Short explainers (DropBox)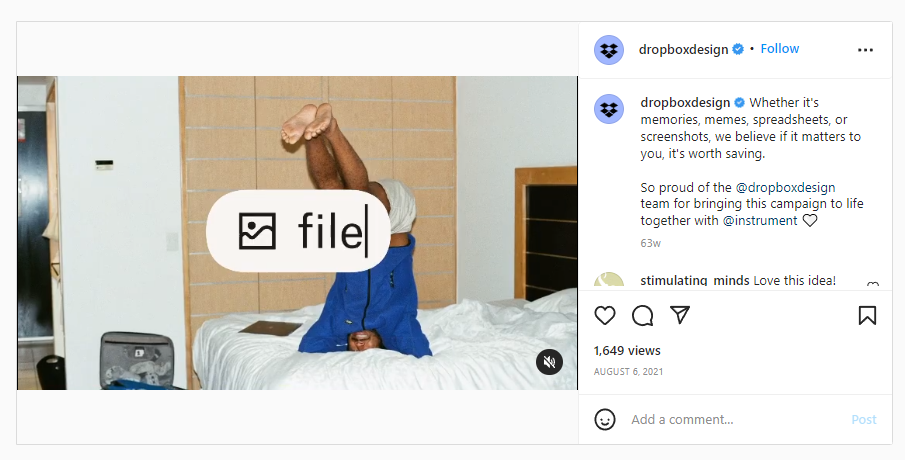 If you want to create an impactful video that genuinely resonates with your audience, one of the best ways is to speak directly to them.
Take Dropbox's short, for example.
Dropbox created a short which made their audience view them in a different perspective.
In this process, storage became more personal.
They are no longer just a virtual box where you dump heavy files that you've tried to attach in your email for the 37th time.Instead, they became a facility for preserving "pieces of your life."
The SaaS achieved a whole new look through their explainer, but still remains grounded in what they offer.
5.Podcast snippets (Invision)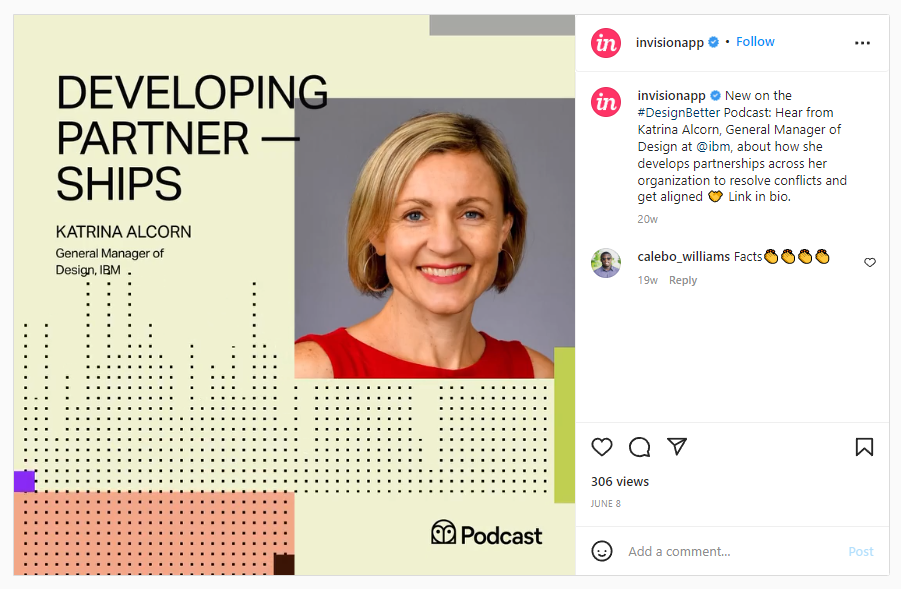 Podcast snippets may be in audio form but you can always attach a video with it and post it on social media, just like what Invision did.
With the inclusion of a podcast snippet and the image of IBM's Director of Design, Invision gives people an idea of who is behind this powerful message.
Like Invision's concept, you can also type in relevant keywords on the short to make it easier to remember.
It's almost always those short, snappy snippets that make the best impression.
6.Funny POV videos (Slack)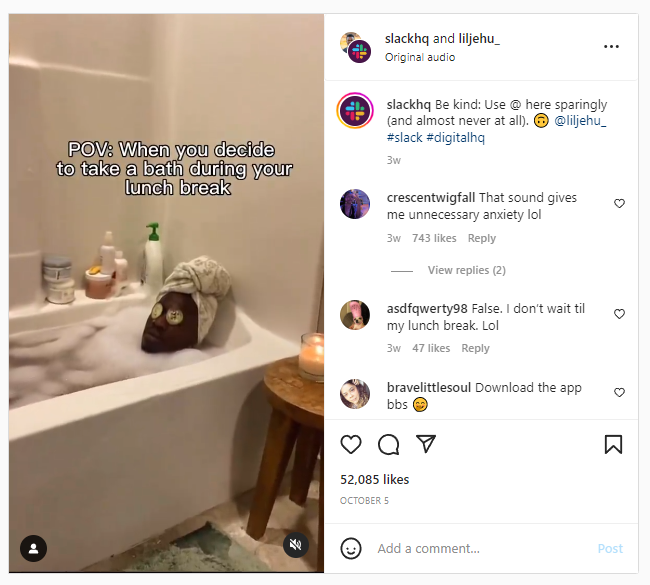 Slack's headline: "Great teamwork starts with a digital HQ."
The SaaS pokes fun at itself with an exaggerated reaction to its notification sounds.
At the same time, the snippet subtly showcases how Slack has the ability to act as a digital workspace. It gives you updates from your colleagues in real-time, which could make or break your day.
The hilariously inappropriate use of its channel wide notification, which is supposed to be reserved only for urgent and important messages, is relatable to everyone.
And this gives viewers the urge to check the app out.
7.Do behind the scenes with your employees (HotJar)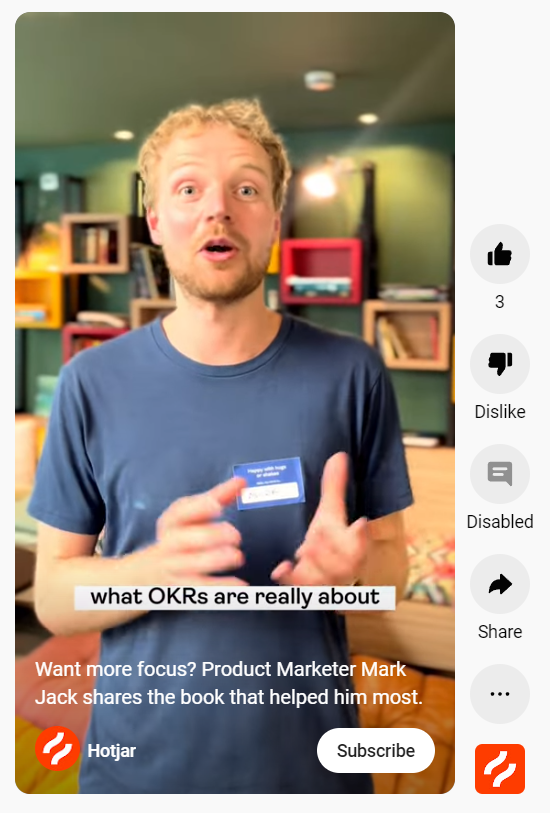 Doing behind the scenes with your employees gives viewers the sense that real people are behind all these services. It gives a human touch to your app, not to mention a sense of authenticity and responsibility.
Just like Hotjar, you may want to do a short with enticing keywords, too. In their case, it's the last four words: "super simple to understand."
For sure, a lot of people will be like, "Wait, what was that?".
After all, it's human nature to be captivated by anything that makes life easier…and your SaaS might just be one of them.
8.Event teasers (Intercom)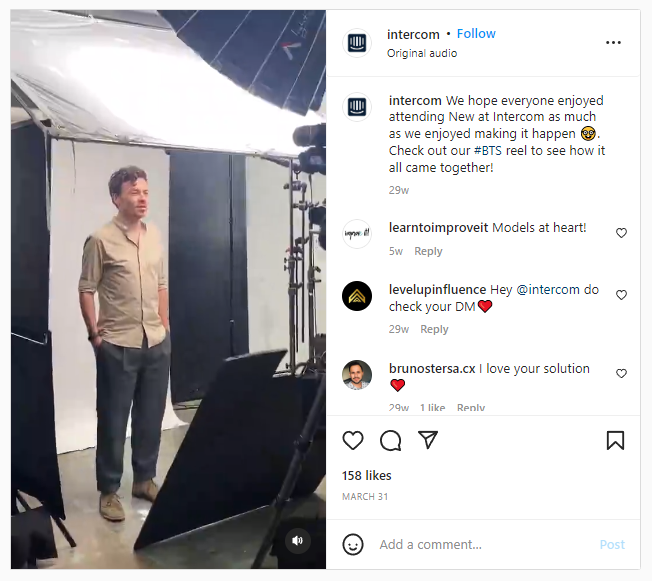 Ensure your customer is intrigued with high-quality, exciting event teasers.
An event teaser will pique the interest of prospective clients about your next big party or workshop.
Boosting excitement and anticipation for upcoming events via short videos can help boost your SaaS business. Aside from generating leads, it also brings in traffic from interested prospects.
Just like Intercom, you can also create an after-event short to show your audience the BTS of what's in-store for them for the next gig.
Additionally, events give your SaaS brand a personality and a vibe, and capturing it on short videos will show others what they're missing.
Start shooting shorts
Whew.
Thank you for your minutes.
Now, it's time to start thinking outside the box and get your message out there in a way that will reach the widest audience the fastest — short videos.
Thanks to platforms like YouTube, TikTok, Instagram, and more, shooting and sharing high-quality videos has never been easier. With so many options for video creation (e.g. video creation platforms, Fiverr, Upwork, Craigslist, or a video production agency like eggcrate), there's no excuse not to give it a try.
Aaaaand…if you've been wanting to create a video but have been feeling stuck, take heart!
At eggcrate, we have everything you need to get started.
We can help you revolutionize your entire marketing strategy — complete with killer concepts — that will take your business to the next level.
Ready to convert more leads to your SaaS?

Let's get crackin'
Hop on a (commitment-free) call with us.
Need SaaS explainer videos?
Let's brainstorm on a cool video that will get you leads (and instant fans)!